Fein RS12-70E Pipe Sander Set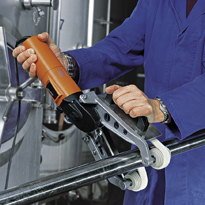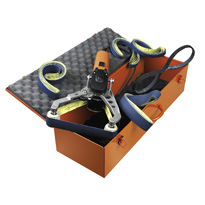 Features
Stainless steel starter set for standard applications in pipe machining.
Effective sanding of welded seams thanks to optimum cutting speeds of the sanding belts.
Infinitely variable speed for sanding, satin-finishing and high-gloss polishing of ready-fitted hand rails.
Flexible sanding belts optimally adapt to even narrow pipe bends, creating surfaces without awkward transitions.
360° peripheral sanding in just 2 steps.
Optional guide pulleys for narrow distances from the wall.
Restart protection.
Wide range of accessories.
Dustproof ball bearing.
Carbon brushes with self cut-off function.
Specification
Input 1200 W
Speed, no load 2700-7000 rpm
Output 750 W
Belt speed 22 m/sec
Minimum wall clearance 50 mm
Weight according to EPTA 3,8 kg
Cable with plug 4 m
Pipes up to Ø8-80 mm
Standard Equipment
2 x 10 pcs. polishing belts,
20x 815 mm P120/P180
2 x 10 pcs. polishing belts, 40x815 mm P120/P180
5 fleece belts 20 x 820 mm very fine
1 plastic carrying case
Warranty

click above logo to register your new FEIN product within 6 weeksafter purchasefor the 3-year FEIN PLUS warranty.
Please select a product to add a review to.