Makita SP6000J1 165mm Plunge Cut Saw Kit with 2x 1.4m Rails

Close cutting plunge saw with rails -The slim blade guard allows a cut within 18 mm ofa wall.
Features
Depth stopper for splinter-free cutting.
Tip-resistant design.
Soft start
Electronic speed control
Constant speed under load
Double Insulation
Specification
Depth of Cut @ 90° 55 mm
Blade Diameter 165 mm
Depth of Cut @ 45º 39 mm
Bore Diameter 20 mm
Noise sound pressure 91 d
B(A)Noise sound power 102 d
B(A)Noise K factor 3 d
B(A)Input wattage 1300 w
No Load Speed 2000 - 5200 rpm
Vibration K factor 1.5 m/sec²
Vibration: Cutting Chipboard 2.5 m/sec²
Net weight 4.2 kg
Standard Equipment
Supplied with 2 X 1.4m guide rails and connector that has a replaceable splinter guard, anti-slip strips on the underside and top running strips for a smooth glide, 48T SPECIALIZED PLUNGE CUT TCT BLADE and Systainer storage case.
Warranty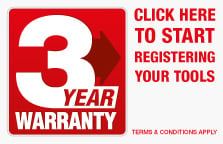 Please select a product to add a review to.
Related Products