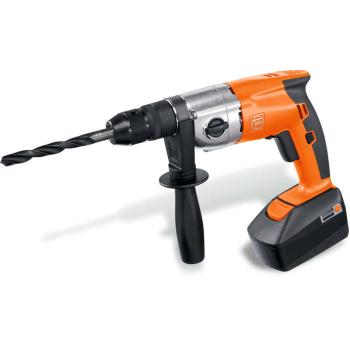 Fein ABOP 13-2 18V Rotary Drill 13mm Chuck
Stock Code: FEI71050361000
£
466.81
(exc VAT) Each
£560.17

(inc VAT) Each

Online: Up to 2 or 3 working days
Cardiff: Out of Stock
Bridgend: Out of Stock

Features
Universal two-speed drill (battery-powered) up to 13 mm with ideal speed range for steel and stainless steel.
Outstanding quality battery-powered drill with high concentricity for precise drilling results.
Maintenance-free, brush-free and highly-effective EC motor with good speed stability.
Mechanical two-speed gearbox for optimum speed adjustment for a wide range of uses.
Metal gear head.
High-precision metal drill chuck.
Self-tightening drill chuck clamping jaws.
Automatic spindle locking and single sheath quick clamping drill chuck.
FEIN Sensitive Handle.
Variable speed control.
Reversible.
Specification
Battery voltage 18 V
Battery capacity 3,0 Ah
Speed, full load 0-500/0-1 500 rpm
Speed, no load 0-580/0-1 760 rpm
Torque 24/8 Nm
Capacity in steel Ø13/10 mm
Capacity in Ø stainless steel 13/10 mm
Capacity in alu Ø16/10 mm
Capacity in wood Ø37/27 mm
Tapping M 10 Collar Ø43 mm
Drill chuck clamping width 1,5-13 mm
Thread of spindle 1/2-20 UNF
Width across corners 23 mm
Weight with battery 2,4 kg
Standard Equipment
1 SUPRA SKE single sheath metal quick clamping drill chuck
1 additional handle
1 rapid charger
ALG 502 battery packs (Li-ion)
1 plastic carrying case
Warranty

click above logo to register your new FEIN product within 6 weeksafter purchasefor the 3-year FEIN PLUS warranty.