Bosch GKT55GCE Plunge Saw with 2x Guide Rails,Connector and Bag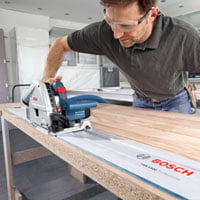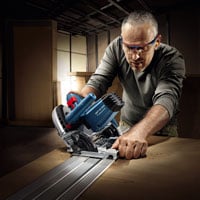 The plunge saw from Bosch delivers precision and power for exceptionally clean straight cuts. Precise adjustments, high-quality machine components and a powerful motor make the Bosch plunge saw a reliable partner for work on the jobsite or in the workshop.

Optimised for use with the FSN Professional guide rail system, the plunge saw enables precise cutting of wood-based materials and solid wood, but also composite materials, aluminium and acrylic glass.
Features
Precision and power for a clean cut

Clean, precise cuts due to high-quality machine components, precision saw blade and matching guide rail system

Comfortable work, especially indoors, due to highly efficient dust extraction and noise-reduced saw blade

Adjustable speed, powerful 1400 watt motor and Constant Electronic for cutting different materials such as wood, panel materials, aluminium and acrylic glass

Exact setting of cutting angle and depth for precise work results

Precise guidance - rails are exactly straight, even when the rail is extended, due to self-aligning connection element

Stable extension - due to the VEL connector for stable and quick connection of guide rails

Safe operation - anti-splinter guard for clean cut edges and adhesive tapes for non-slip handling

Sturdy, high-quality system accessory for connecting guide rails

Quick and self-aligning

Practical carrying bag for guide rails and matching accessories

Made from strong durable padded canvas includes zipped pocket for other tools and accessories
Specification
Rated power input 1.400 W
No-load speed 3.600 - 6.250 rpm
Weight 4,7 kg
Saw blade bore diameter 20,0 mm
Saw blade diameter 165 mm
Length 310 mm
Height 240 mm
Cutting depth Cutting depth (90°) 57 mm
Cutting depth (45°) 42 mm
Spindle lock
Constant Electronic
Dust extraction
Overload protection
Smooth start
Compatible with guide rail
Standard Equipment
L-Boxx Carrying Case
FSN 1600 Guide Rail x 2
FSN VEL Guide Rail Connector
FSN Carry Bag
Warranty

Click above logo for details and to register your warranty please note to qualify for the 3 year warranty you must register your tool within 4 weeks of purchase date
Please select a product to add a review to.